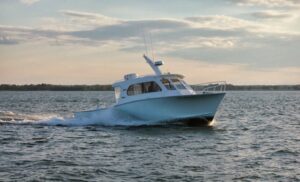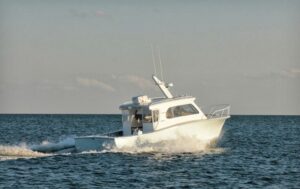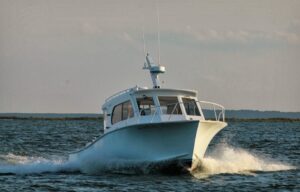 The Three Sons was built by Tiffany Yachts in Burgess, Virginia. She is 39 feet long and 14 feet wide. She is powered by a single six cylinder diesel engine that allows for a comfortable 16 knot cruise. Her width allows for ample fishing room for six people, as well as a comfortable ride in most sea conditions.
Her cabin is spacious enough for 8 people to get inside out of the weather, and with the aft curtains drawn you will stay very warm and dry during fall & spring fishing trips. She is equipped with the latest in electronics and there is also an enclosed head for your privacy.
Tiffany Yachts completed this vessel in 1999. The vessel remained on the Chesapeake Bay until 2003 when she was purchased and relocated to Montauk, New York.
She remained in Montauk for ten years where her owners took great care of her. During the summer of 2013, she was purchased from a fine Northern Gentleman and she returned home to the Chesapeake Bay for service as the charter boat Three Sons.