We had 2 good days of fishing on the Potomac River this past weekend.
On Saturday, we had the pleasure of fishing with Bryce Carter and his crew.  On Sunday, Mike Troy and his Sons joined us.
Both days we trolled our large spring spread of 14 fishing rods and managed to stay busy catching fish all day.  By the end of both days we managed to land a nice pile of keeper bass and a fat blue catfish.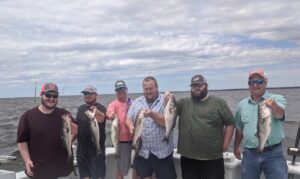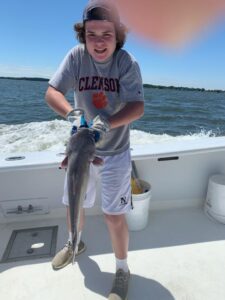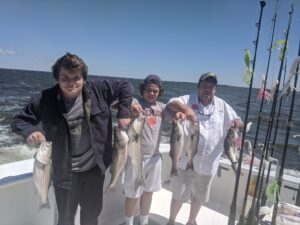 I will keep the boat up on the Potomac River for the next couple weeks to fish for Striped Bass and blue catfish.  At the end of June, we will move the boat back to Reedville to start fishing for Cobia.
I still have weekend dates of June 13 & 14 available, as well as weekend dates in July and August.  Fishing should continue to improve as the temperature increases.  It shouldn't be long before we are working on Spanish Mackerel, Bluefish, Red Drum and Cobia.
It's tome to get outside in fresh air, on the water and do some fishing.